Single-phase inverter type DXS
Basic use: conversion of DC battery voltage into AC voltage
TECHNICAL DATA
input voltage
DC 24V – 48V – 110V – 220V, +20%/-15%
output voltage
AC 230V ±1%, 50Hz
rated power
0,1kVA – 0,5kVA
frequency change
±0,1% for independent work
waveform
sine, THD<4% at linear load
dynamic accuracy at 100% load change
±6% through 1 ms
overload
100% through 5 seconds
efficiency
0,86 – 0,91 at rated conditions, depending on the input voltage and output current
cooling
natural
protection
output short-circuit - electronic
overload-electronic
battery deep discharge
level of mechanical protection
IP 20
dimension
200 x 90 x 230 mm for 0,1kVA
250 x 127 x 300 mm for 0,5kVA
environment working temperature
0°C to +40°C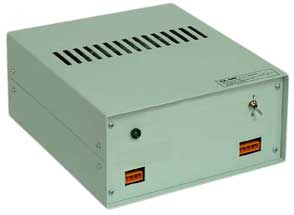 Sigle phase inverter/rectifier/DC-DC converter type: DXS 48-03B
Device converts 230AC voltage or 48 DC battery voltage into 24VDC or 230VAC. Also can work as 48VDC/24VDC converter.
TECHNICAL DATA
input voltage
DC 48V or AC 230V (+20%/-15%)
output voltage
AC 230V 50Hz (±1,5%) or DC 24V
rated power
0,3kVA
frequency change
±0,1% for independent work
waveform
sine, THD<4% at linear load
dynamic accuracy at 100% load change
±6% through 1 ms
overload
100% through 30 seconds
efficiency
0,86 – 0,91 at rated conditions, depending on the input voltage and output current
cooling
natural
protection
output short-circuit - electronic
overload –electronic
battery deep discharge
level of mechanical protection
IP 20
enviroment working temperature
od 0°C to +40°C
dimension:
245 x 120 x 255 mm
weight (kg)
6 kg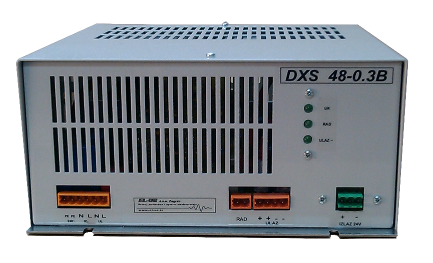 This inveter type is not using grid power in case too deep battery discharge.
---