Battery monitoring unit
BNU (battery monitoring unit): rectifier and battery monitoring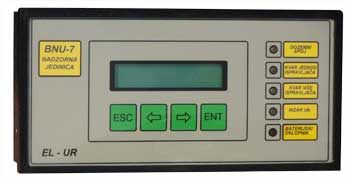 Measures rectifier's current and battery voltage, detects battery earthing then limits the charge current, regulates battery charging voltage depending on the temperature (temperature compensation) and protects battery from deep discharge.
One BNU monitoring unit supervises max. four parallel working rectifiers.
Suitable for installation on distribution box door (small dimensions and weight).
Enclosure dimensions with connectors: 192 x 95 x 85 mm.
Hole dimensions for door implementation 185 x 90 mm, installation depth min. 80mm.
---