Solar power systems
Solar power systems: solar panels, solar batteries, sine waveform inverter and MPPT battery charge regulator.
We are also offer: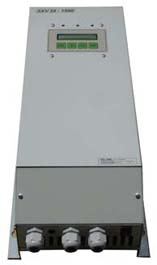 construction for solar modules
installation service
electrical installation for solar system
consulting and calculation of system power
Solar inverter converts DC voltage 24V(battery) to AC 230V, 50Hz, for load power supply. It has a built-in LCD display with 4 buttons that allows easy handling and tracking data of the device. Electronic protection against short circuit at the output, overload and deep discharge batteries protection. MOSFET switching technology and DSP (digital signal processing) regulation.