Inverters for solar power systems
The inverters in solar power systems are used to convert 24VDC to 230VAC, 50Hz, for load power supply

MOSFET switching technology
microprocessor DSP regulation
ability to charge batteries from the grid and return power from the battery to the grid (recuperation)
pure sine wave output waveform
INVERTERS TYPE DXS
rated power
1000, 2500 i 4000  / 48 VDC (VA)
1000, 2000 i 3000  / 24 VDC
input voltage
DC 24V i 48V    +20% / -15%
output voltage
AC 230V ± 1,5% ,  50Hz
frequency change
±0,1% for independent work
waveform
sine, THD < 4% at linear load
overload capability
50% 30 seci / 24V
100% 30 sec / 48V
efficiency
 0,9 – 0,92 at rated conditions, depending on the input voltage and output current
grid synchronization
50Hz ±4%
cooling
forced
protection
output short-circuit - electronic
overload –electronic
battery deep discharge
signalization
LCD display
ON / OFF (voltage free contact)
dimension
380 x 270 x 440 mm – standalone housing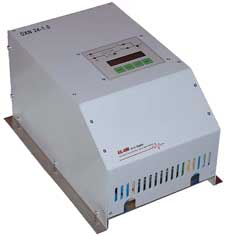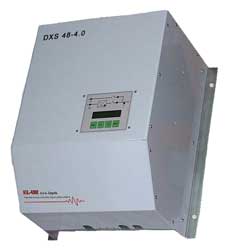 Inverter type DXS-24 2.0-UPS has a "standby" function to reduce battery consumption when operating in neutral.
The converter has AC voltage of 230V input, and can synchronize with it. Consumption devices can be powered from 24V DC voltage or AC 230V. Transition from one source to another can be continuous and behave as uninterrupted power supply - UPS to the consumers.
Microprocessor DSP (digital signal processing) technology - digital signal processing by the controller.
Relay for signaling WORK / FAULT.
LCD display and 4 keys.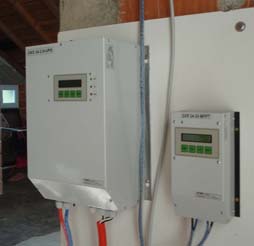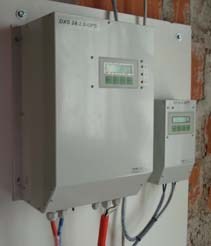 ---
SXV 24-1500 INVERTER
rated power (kVA)
1,5
input voltage
DC 21 – 30V
output voltage
AC 230V ± 2% , 50Hz ± 0,1%
waveform
sine, THD < 4% at linear load
dynamic accuracy at 100% load change
± 6% through 1ms
cooling
forced
protection
output short-circuit - electronic
overload –electronic
low and high input voltage 24 VDC
consumption in stand-by mode
< 2W
level of mechanical protection
IP 20
environment working temperature
0°C to +40°C
dimension
205 x 130 x 440 mm
weight (kg)
about 15